Cherumaliackal Residency is ideally located in the holy land of onattukara,where Chettikulangara Amma has showered all the blessings.
The Hotel established in 2015,offers the best in class service for the devotees who visit the famous Chettikulangara Devi Temple.
About Chettikulangara Temple

Chettikulangara Kettukazhcha, conducted every year on the Bharani Nakshathram of Malayalam month 'Kumbham - It is probably the most amazing cultural visual spectacle in Kerala, similar to the Thrissur Pooram.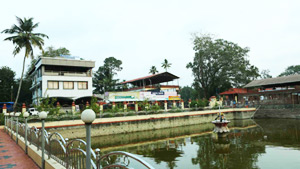 The Cherumaliackal Residency has the state-of-the-art facilities for stay of the devotees with all modern facilities.
It is situated adjacent to the north gate (Vadakkenada) of the temple and ideal base for devotees who prefer to go to the temple in the early hours of Nirmalya Darshan.
The Elegantly and exquisitely crafted rooms face the temple pool which provides a divine touch and make the stay here the most comfortable.